Musa Publishing is pleased to announce that Jacques Muller is the artist working with us on the Who Wacked Roger Rabbit? project. Mr. Muller was an animator on the Oscar-winning 1988 film Who Framed Roger Rabbit? He has also worked on amazing projects like Star Wars Episode 1: The Phantom Menace, Space Jam, and The Rescuers Down Under. Mr. Muller currently splits his time between many different projects. He is a senior lecturer on classical animation at Nanyang Polytechnic of Singapore, and he is also finishing a short film in 2D called "A Horse's Dream."
But everyone is mum when it comes to who--or what--that cover image will contain. While fans' expectations build for the upcoming novel, many are wondering if the beloved Roger Rabbit character, which is trademarked by Disney, will be part of the cover image. Summers's only comment was a cryptic, "I think fans will be excited when we release the cover art next month."
One thing was confirmed by both Musa and the artist: Muller is working on creating the new Toons that debut in Who Wacked Roger Rabbit? "I think that creating these new characters graphically is a great idea. Gary and I [can] work together on this as I will need his guidance to see if I am going in the right direction visually," Muller commented. "I am especially interested in creating a Jessica antithesis."
Musa will release the cover for Who Wacked Roger Rabbit? on September 15.
For more information about Muller or Who Wacked Roger Rabbit? go to www.musapublishing.blogspot.com. The full interview with Muller will appear in the September issue of Penumbra. Pre-orders of the book will be available beginning on October 22, 2013 on the Musa Publishing website. For fast access to news about the novel, fans might want to check out the Who Wacked Roger Rabbit? fan page on Facebook, at https://www.facebook.com/WWRRMusaPublishing.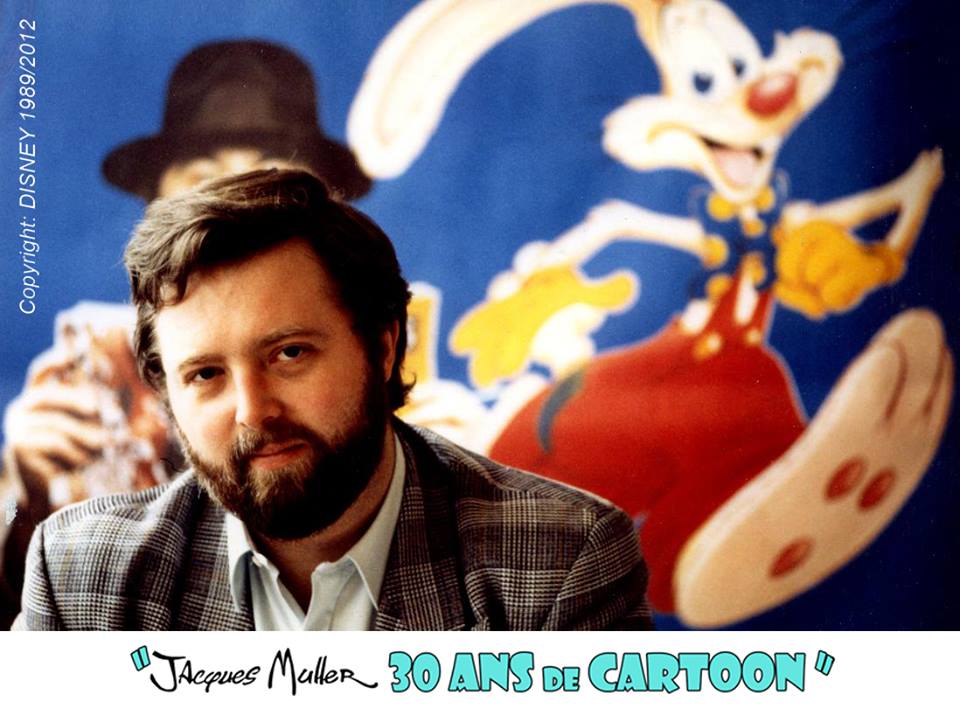 For Immediate Release
Contact: Celina Summers
editor AT musapublishing.com
Musa Publishing Announces Deal With Author Gary K. Wolf For Third Roger Rabbit Novel
(Lancaster, OH) Musa Publishing, an independent digital-first publisher, has announced today that they will publish Who Wacked Roger Rabbit? by author Gary K. Wolf, the third book featuring Wolf's iconic character, Roger Rabbit, and the denizens of Toontown.
"When I first got a submission in the inbox from Gary K. Wolf, creator of Roger Rabbit, I must admit that I didn't take it seriously. After all, why would such a well-known author be coming to Musa?" confesses Musa Editorial Director, Celina Summers. "But after I read his submission, all my doubts were erased. No other author in the world has that distinct narrative voice. Rather quickly, we accepted two novels from Gary—The Late Great Show! and Typical Day—and Gary became part of the Musa family. But even then, I never expected he'd bring us a Roger Rabbit novel. "
Who Wacked Roger Rabbit? is the culmination of a twenty year wait for fans of the world that Wolf first created in his 1981 Hugo-winning Who Censored Roger Rabbit? The third installment in the series has been promised to fans for a long time but never released. Now, with the 25th anniversary of Who Framed Roger Rabbit? on the horizon in 2013 and rumors of a 3-D reissue stirring up excitement among Roger Rabbit fans, the collaboration between Wolf and Musa is coming at a significant time.
"I could easily have published Who Wacked Roger Rabbit? through a major print publishing house. Instead, I choose to make this the first book of the Roger Rabbit series to be published digitally," Wolf states. "That decision evolves directly from the way I work, from the core philosophy of what I write and why I write it. I always push the boundaries in my writing. I invent worlds that nobody else ever thought about. I create unique characters and situations. I try to always be at the forefront of my craft. That includes the way my writing is presented to my readers. Digital publishing is clearly the future. It's the way books are headed, so I'm heading that way, too."
With his first book at Musa, The Late Great Show!, released in October and his second novel, Typical Day, coming out on December 7, Wolf is no stranger to the Musa system. "I especially like the way Musa has taken digital publishing into areas that I never thought of. Using proprietary software, I'm able to interact with them electronically in real time. My editor, the publicity department, the art department, and everybody else involved with my work all have instant access to everything I submit. And vice versa."
Wolf isn't the only well-known author bringing his works to Musa. USA Today bestselling author Sharon De Vita has a multi-book deal with the publisher, and her romantic mystery The Estrogen Posse has been increasing in sales since its release in October, 2011. Science fiction up-and-comer Gini Koch's serial—The Martian Alliance—is being published by Musa, along with new and backlisted works from well-known authors like Cindi Myers, Vella Munn, Helen Hardt, and Julia Bell. In addition, Musa is responsible for the Homer Eon Flint project, where the entire body of work of this lost American science fiction author is being saved from crumbling 1920s pulp magazines and disintegrating newspaper copy and published as e-books.
"Even two or three years ago, it would have been thought impossible to lure these writers to a small, young publisher," Summers explains. "But because of our author-friendly policies and transparent business model, small publishers like Musa are able to release books like Who Wacked Roger Rabbit? digitally, with both a better product and prices far below what traditional publishers set for their e-books."
Both Summers and Wolf are optimistic about the prospects for Who Wacked Roger Rabbit? The novel reunites all the old fan favorites—Eddie Valiant, his fuzzy sidekick Roger Rabbit, Baby Herman, and Roger's va-va-voom mate Jessica, who continue their madcap human and Toonian adventures. This time, Eddie is hired to bodyguard for Gary Cooper and Roger Rabbit, the stars of a new movie that's been receiving dire threats—shut down the film or else.
"Musa is thrilled to publish the next installment in the Roger Rabbit world," Summers says. "Toontown and e-publishing are destined to work well together. Gary has such an innovative mind. He takes risks daily with his fiction—he enjoys taking creative risks. He can do that comfortably at Musa because we encourage all our authors to reach further, to attempt things they normally wouldn't. E-publishing is all about trying things that traditional publishers might be uncertain about."
With the release of Who Wacked Roger Rabbit? set for November of 2013, Musa and Wolf are poised to gratify millions of Roger Rabbit fans across the world. The entertainment franchise is worth over $500,000,000 and the fandom is as eager as ever to follow their beloved Roger Rabbit and Eddie Valiant into new adventures—including e-publishing.
"Digital publishing is the wave of the future, and I've always been a wave of the future kind of guy," Wolf states matter-of-factly. "For me, going digital wasn't in any way a last resort. It was a necessity."
Gary Wolf is the NYT Bestselling author of numerous book, articles, and short stories including Who Censored Roger Rabbit?, Who P-P-P-Plugged Roger Rabbit?, Space Vulture, and The Late Great Show! His movie credits include Who Framed Roger Rabbit?, the three Roger Rabbit cartoons Tummy Trouble, Rollercoaster Rabbit, and Trail Mix-up, and—coming in 2014—screen adaptations of his science fiction novels The Resurrectionist and Killerball. Awards for Wolf's work include the Hugo Award, British Science Fiction Award, SF Chronicle Award, and 4 Academy Awards. Wolf is an avid Yoga enthusiast and lives in Boston where he is a full-time author, screenwriter, lecturer, entertainment consultant, and consummate "grown-up kid." Look for his next Roger Rabbit installment to be released November, 2013 by Musa Publishing.
Website: www.garywolf.com
The Late Great Show! and Typical Day are available through Musa Publishing, www.amazon.com, www.barnesandnoble.com and e-tailers worldwide.
More information available from Musa Publishing at www.musapublishing.com and www.musapublishing.blogspot.com.
Review Copies Available Upon Request. Email promotions AT musapublishing.com.
###