Who Censored Roger Rabbit?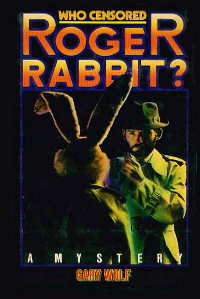 Gary K. Wolf creates a wonderfully skewed - and totally believable - world made up of equal parts Raymond Chandler, Lewis Carroll, and Walt Disney. A riotously surreal spoof of the hard-boiled detective novel. Packed with action and laughs. Wolf's cult classic, highly praised novel is the basis for the blockbuster Walt Disney/Steven Spielberg film Who Framed Roger Rabbit.
Now available in new paperback edition! Hey, Roger Rabbit fans. This is huge. There hasn't been a paperback edition of this book since 1981! This is the novel that started everything. The book Disney and Steven Spielberg turned into the multiple Academy Award winning movie Who Framed Roger Rabbit. See how the story began. Only $15. Includes a sketch of Roger and his autograph, and the autograph of author Gary K. Wolf who also appears on the cover posing as hard boiled private eye Eddie Valiant. Get your copy today before they're all snapped up.
---
Like-new original hardcovers of this novel are available.
E-mail for more information or to order.
---
Reviews
This antic mystery, in a tradition -- and on a terrain -- familiar to fans of Raymond Chandler and Ross Macdonald, amuses as it intrigues.
The New York Times
An impressively sustained, original mix of fairy tale and burlesque ... Wacky!
Publishers Weekly
A decidedly different and thoroughly enjoyable piece of fiction.  Highly recommended.
Roanoke Times and World News
It's fun.  And crazy.  And it works.  Gary K. Wolf has created a fast-moving send up of the classic trench coat thriller, turned the world 90 degrees to the left and then stirred in the barnyard beasties of the comic pages.  The action stays frantic.  Wolf creates a world wacky and real enough to keep you turning the page.
Long Beach Independent Press Telegram
The style is a well-oiled version of Raymond Chandler, and the characters are about what one would expect if Daffy Duck were to become the producer of "Wild Kingdom".  Hilarious.
Kansas City Star
The ultimate tongue-in-cheek burlesque of the typical hard-boiled private eye thriller.  Who Censored Roger Rabbit? stands with the true detective epics of the '30s and '40s.
Jacksonville Times Union
An inspired mix of genres.  Much fun.
Fresno Bee
A very clever mystery.
Cincinnati Enquirer
A wild, wacky and highly original story which never has a dull moment.
Chattanooga News-Free Press
Zany!
Boston Herald American
A funny, imaginative private-eye spoof as fantastic as the world Wolf has skillfully created.
Allentown Call-Chronicle
Wolf's writing is genuinely funny.  His characters wander around in a Chandleresque Disneyland of comic violence that is surreal without being unrealistic.  He also trots out every cliché imaginable in the detective/mystery genre, and milks them for every laugh, or groan, that he can get.
Something by Raymond Chandler out of Lewis Carroll -- funny, wacky and hard to put down.
South Bend Tribune
If you like unusual murder mysteries and off-beat humor, then Who Censored Roger Rabbit? is the book for you.
The Comics Journal
More than a few laughs. Hilarious.
Kirkus Reviews