Who Wacked Roger Rabbit?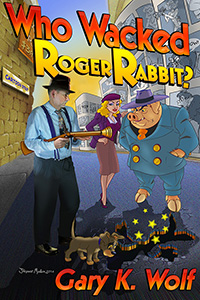 Hard-boiled gumshoe Eddie Valiant lands a plum job as Gary Cooper's bodyguard while Coop scouts locations for his next movie—a screwball comedy titled Hi, Toon! But Eddie's dream job quickly turns into a nightmare. The film's being shot in Toontown, and Coop's co-star turns out to be none other than Roger Rabbit.
Eddie's a big fan of Coop. Of Roger? Not so much.
Now a sinister hoodlum is threatening to murder Coop if the movie gets made. Before long, Eddie, Coop, Roger, and the ever-glamorous Jessica Rabbit are embroiled in a mystery that could destroy Toontown. When Roger bites off more Toonish trouble than Eddie can swallow, the answer to the question Who Wacked Roger Rabbit? suddenly becomes no laughing matter.
---
Reviews
"Gary K. Wolf's iconic world and characters have never been more vivid-readers will fall in love with Eddie Valiant, Jessica Rabbit, and her hunny bunny Roger Rabbit all over again...Even the Incredible Hulk calls Who Wacked Roger Rabbit? a 'SMASH!'"
--Stan Lee, mogul of Marvel Comics
"In Who Wacked Roger Rabbit? Gary K. Wolf carries on his Toontown legacy... and even explains in his wacky way things like why most Toons choose to have only four fingers. It's the best Roger Rabbit tail tale yet!"
--Rich Koster, DisneyEcho
"After so many years, going back to Toontown with Eddie Valiant is like visiting the old neighborhood and catching up with old friends. Gary Wolf has done it again!"
--Tom Sito, animator & historian. Author of Moving Innovation, a History of Computer Animation.
"Gary K. Wolf succeeds brilliantly with "Who Wacked Roger Rabbit?" with a novel that engages our imagination, our sense of humor and ultimately-our desire to be part of a world that we would love to be a permanent resident in good standing!"
--Oscar Benjamin - journalist, photographer, and radio show host
"Gary K. Wolf writes with ink siphoned directly from Toontown to paint a wondrous world of laughter, surprise and imagination."
--Charles Fleischer, actor and voice of Roger Rabbit in Touchstone's Who Framed Roger Rabbit
"What makes this novel so intriguing is Wolf's ability to create an entirely unique world: a world where animated characters and humans coexist...Bottom line: The eccentric creativity of this novel makes for a fun, fast-paced read."
--True Classics
"Who Wacked Roger Rabbit? is a quick-paced, light-hearted mystery...Wolf created these characters and feels free to play around with them, as noted by the lack of continuity between the three books, but he also knows these characters and everything they do feels natural for them, even taking Roger's toonishness into consideration."
--Stephen H. Silver from SFSite.com
"A corral of colorful new characters and humorously strung together lines will keep you laughing at the 'Toon-logic,' wrapped up in a murder mystery and back inside the world that is Roger Rabbit."
--Imnotbad.com
"Who Wacked Roger Rabbit? rambles a lot to get in all the Toons. Most of them turn out to be much more serious than Roger, or than what Eddie has been told that all Toons act like, such as the sadistic Louie Louie Louse. The mystery is also serious. An important supporting character is murdered, except that Roger and Gary Cooper get glimpses of him walking around. Is his death phony, or is someone faking that he's still alive? This also makes the threats against Barney Sands and Gary Cooper seem more deadly."
--Fred Patten from Dogpatch Press