Who P-p-p-plugged Roger Rabbit?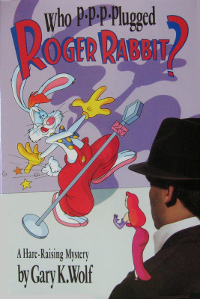 Welcome back to Toontown where Toons live side-by-side with humans. The whole Who Framed Roger Rabbit cast is here: Roger Rabbit, Eddie Valiant, Baby Herman, and of course Jessica Rabbit, the sultriest woman ever "drawn that way." They're up to their old tricks in a whimsical new mystery by Toontown's original creator, the man who first brought these delightful creatures to life.
---
Rare, Out-of-Print Hardcover 1st Edition. Signed.
Brand new, never read. Book and dust jacket are mint.
This will come to you autographed and personalized. It will bear the one-of-a-kind Roger Rabbit stamp authorized only for use by Gary K. Wolf.
$50 plus postage.
E-mail for more information or to order.
---
Reviews
Who P-P-P-Plugged Roger Rabbit? is as bright and fresh and fascinating as the original. Fans of the first book and film are in for a Toonful treat.
Michael Eisner / Chairman of the Board and CEO /
The Walt Disney Company
Reprint of the entire first page of the novel under the heading Auspicious Beginnings.
People Magazine
Unabashed P-P-P-Plug! If you like Roger Rabbit, you'll adore Who P-P-P-Plugged Roger Rabbit? by Gary K. Wolf, the man who created Roger and the rest of the Toon crew.
The Toontown Tattler (Disney Comics)
A good, fun read. Eddie Valiant out-Marlowes Marlow and out-Spades Spade. The humorous strength of Who P-P-P-Plugged Roger Rabbit? lies in Wolf's one-liners and quirky send-ups of 1940s hard-boiled detective patter. The bodies drop like names at a Hollywood party. Wolf's prose is consistently witty, the plot is fast-paced and quirky, and he can craft a decent mystery with a sense of fun.
Boston Herald
The Toonish imagery, the slapstick humor, the double entendre dialogue all contribute to turn this book into a Technicolor vision as you read. From the first "P-O-W" to the last "K-A-B-L-O-O-E-Y," the fun is never ending.
Nashville Banner
The welcome mat is out again at Toontown. Expect the usual surreal hi-jinks. In Wolf's crazy universe, a never-never-land gag is always around the corner.
Columbus Dispatch
Wolf freely mixes Toons and human characters in situations both real and surreal. It's a fast and funny story made up of equal parts of cartoon pratfalls, tough-guy detective action and sly humor. It's an endlessly entertaining tale with jokes and puns that leap at you like out-of-control cartoon speech balloons.
Austin American-Statesman
Stay Tooned. If you enjoyed the movie Who Framed Roger Rabbit, you'll have to run out to the bookstore and buy its sequel. It's a good, hare-raising mystery.
Newport News Times-Herald and Daily Press
Proclaimed Best Fantasy Novel of 1991
Science Fiction Chronicle
Eddie Valiant, the hard-boiled private eye who makes Sam Spade look like Little Lord Fauntleroy, takes the lumps and solves the mysteries while spouting the most incredible array of similes ever committed to paper. There haven't been such characters since the Tin Man and the Cowardly Lion. The wildest adventure since Alice went through the looking glass. The highest form of comedy.
Louisville Courier-Journal
When the folks at Disney make P-P-P-Plugged into a m-m-m-movie, I'll be f-f-f-first in line for a ticket.
Indianapolis Star
It's a hoot. Wolf obviously gets as big a kick out of the convoluted plotting and the exaggerated private-eye lingo as he does the interactions between humans and Toons. The ingredients make a rich confection for anyone addicted to pop culture.
Wichita Eagle
Fun reading.
Reno Gazette-Journal
A marvelous adventure in Toontown, a hare-sute tour de farce. In this latest cotton-tale, Roger is back with the same madcap characterizations we loved in the film.
Ottawa Citizen
Wolf has managed to take a potential one-joke premise and milk it for all it's worth.
Wilmington Sunday News Journal
Those thespian Toons are back. Readers are going to love it. And the film is going to be great.
Washington Times
Murder and mayhem in Hollywood's shady underworld. A humorous and intelligent mystery.
Staten Island Sunday Advance
Wolf does it with panache. If you want high quality entertainment, grab this book, then follow Eddie Valiant's advice in the introduction: Relax, hang on, and enjoy the ride.
United Press International
Involving reading which will be enjoyed by fans.
The Bookwatch
The long awaited sequel to Who Censored Roger Rabbit? Great fun throughout.
Science Fiction Chronicle
Imagine a comic book with no p-p-p-pictures. It sounds dull, but when Gary K. Wolf writes about Roger Rabbit and Eddie Valiant, it isn't. Valiant discovers just about every crime taking p-p-p-place in Toontown. The book requires readers to exercise more imagination than most. Despite its silliness, the suspense and mystery of the book and the mischievous rabbit will hold readers of all ages.
Pensacola News-Journal
Fast, funny, and sus-p-p-p-pensful.
Nassau Herald
Another offbeat mystery story as good as the first book and the movie.
Erie Times-News
Wolf is a master of word plays and has great fun with the English language.
Syracuse Daily Orange