Who P-p-p-plugged Roger Rabbit?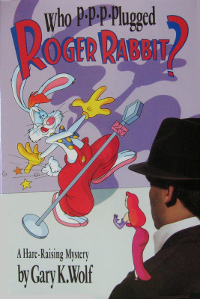 Released by Villard/Random House on July 30th, 1991
Welcome back to Toontown where Toons live side-by-side with humans. The whole Who Framed Roger Rabbit cast is here: Roger Rabbit, Eddie Valiant, Baby Herman, and of course Jessica Rabbit, the sultriest woman ever "drawn that way." They're up to their old tricks in a whimsical new mystery by Toontown's original creator, the man who first brought these delightful creatures to life.
---
Rare, Out-of-Print Hardcover 1st Edition. Signed.
Brand new, never read. Book and dust jacket are mint.
This will come to you autographed and personalized. It will bear the one-of-a-kind Roger Rabbit stamp authorized only for use by Gary K. Wolf.
$40 plus postage.